The Chameleon Plant (Houttunyia cordata). Would you grow it as a Houseplant or a Ground Cover?
We answer these questions in this garden blog including where to buy these plants? (Chameleon plant for sale)
All about the Chameleon Plant
Let's learn more about this amazing color changing plant.
Scientific name: Houttunyia cordata
Colors: Red, Pink, Yellow, Green, White (Flower)
Deer Resistant: Yes
Max Height (feet): 14″
Plant Lighting: Partial Sun/Full Sun
Season Color: Summer
Spread: 18-72″ as vine
USDA Growing Zones: 3-9
A small perennial plant that is naturally grown as a ground cover and comes back year after year. It has deciduous leaves that fall off when the temperatures drop below freezing.
Amazing display of color! Heart shaped leaves are boldly splashed with colors of red, bronze, cream, and yellow variegation.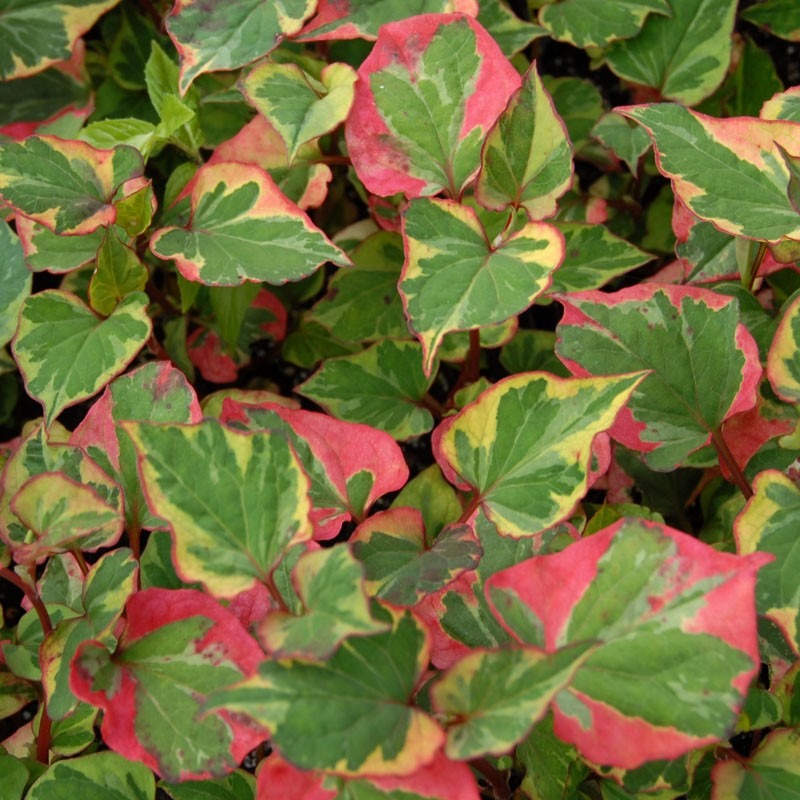 Chameleon plant is a great ground cover that spreads underground by rhizomes that can become aggressive. Many have it listed as an invasive species and it's recommended to be container grown if that is an issue for the gardener.
Dormant in winter as perennial flower blooming in Summer zones 3-9, dormant in the winter.
The Chameleon plant can grow in Part Shade to Full Shade.
Chameleon Plant Care
Chameleon plant grows best in moist, wet soil and full sun or part shade.
PRO TIP: (Note – the brightly variegated leaves develop better color when grown in full sun.)
Pruning is good to make this traditional ground cover bush up.
They Love Water!
The plant readily tolerates 2 or more inches of standing water.
This makes it a great plant for growing along a stream or pond, or in a water garden.
Chameleon Plants Grown in Container
Some purchase for sale because they like to grow them as houseplants.
One challenge is that the plant likes to go dormant in the winter. So there is potential for some shedding of leaves.
To help prevent this do not let the temperature drop below 40 degrees F.
Keep it pruned and the plant will grow as a bush.
Growing as Ground Cover
Chameleon plants (Houittuynia) are a colorful ground cover in areas that might otherwise remain bare because of poor or wet soil.
Chameleon ground cover is sold because it is adaptable to many areas and can be useful in the landscape.
It is a very fast and a rampant growing groundcover that gets into everything if you are not careful.
Add some landscape barriers to where you do not want the vine to run.
Oftentimes, the cultivar with colored foliage is overtaken by the green mother species.
Again, plant in full sun for the best and most vibrant colors. The red color seems to come out more in late fall.
Chameleon Plant for Sale
Where to buy Chameleon Plants?
You can find them online or possibly at a plant nursery near you. We have an Etsy store link for more information.
FAQ's
This is being updated on January 28th, 2021
We are waiting for more information at this time. Please check back at that time to read Questions and Answers.