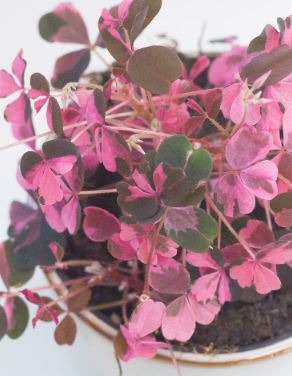 Welcome to the blog post about Variegated
Plum Crazy Shamrock Oxalis!
Oxalis is an attractive, purple-tinged succulent native to South Africa. It has bright green foliage, with a deep purple center on
each leaf. It grows in low clumps, making it ideal for ground cover or edging. It has a unique shape, giving it a unique appearance.

This plant is easy to care for and can tolerate a wide range of temperatures and light levels. It prefers a well-drained soil and should be watered when the soil feels dry. When it's grown outdoors, it does best in full sun, but can also tolerate partial shade. It's also tolerant of dry air and can handle neglect.

Oxalis is a great choice for those looking for a low-maintenance and unique succulent. It adds color to any garden. Its low maintenance makes it an excellent choice for those who don't have much time to garden.

If you're looking for an unusual and striking
addition to your garden, the Oxalis
Variegated Plum Crazy Shamrock is the most suitable choice. Its easy care and stunning purple hues make it an excellent addition to any garden. Give this unique succulent a try and you won't be disappointed!
Here's a step-by-step care guide to help you keep your plant healthy:
1. Placement and Lighting:
Find a suitable location for your Oxalis. It prefers bright, indirect light.
Avoid placing it in direct sunlight, as the intense rays can scorch the leaves.
Indoor settings near east or west-facing windows often provide adequate light.

2. Temperature and Humidity:
This plant thrives in average room temperatures between 65°F and 75°F (18°C-24°C).
Maintain moderate humidity levels around the plant, especially during winter when indoor heating can cause dry air.
You can increase humidity by using a humidifier, placing a tray of water nearby, or
misting the leaves occasionally.

3. Watering: Keep the soil consistently moist but not waterlogged. Overwatering can lead to root rot, while underwatering can cause the leaves to wither.
Water the plant when the top inch of the soil feels dry to the touch.
Use room temperature water and water the plant until water drains out of the bottom of the pot. Discard any excess water after 15-20 minutes.

4. Soil and Potting:
Use a well-draining potting mix, such as a blend of peat moss, perlite, and sand.
Ensure the pot has drainage holes to prevent waterlogging.
Repot the plant every year or two, preferably in spring, using a slightly larger pot to allow room for growth.

5. Fertilization:
Feed your Variegated Plum Crazy Shamrock Oxalis every two to four weeks during the growing season (spring and summer).
Use a balanced, water-soluble fertilizer diluted to half the recommended strength.
Avoid fertilizing during the plant's dormant period in fall and winter.

6. Pruning and Maintenance:
Remove any yellowing or dead leaves regularly to maintain the plant's appearance and prevent disease.
If your Oxalis becomes leggy or elongated, you can trim it back to encourage bushier growth.

7. Dormancy:
Oxalis plants go through a dormant period in fall and winter.
During this time, reduce watering and allow the top inch of soil to dry between waterings.
Provide less light, as the plant benefits from a rest period.

8. Pests and Diseases:
Keep an eye out for common pests like aphids, spider mites, and mealybugs. If detected, treat the infestation promptly using appropriate methods.
Ensure good air circulation around the plant to prevent fungal diseases.