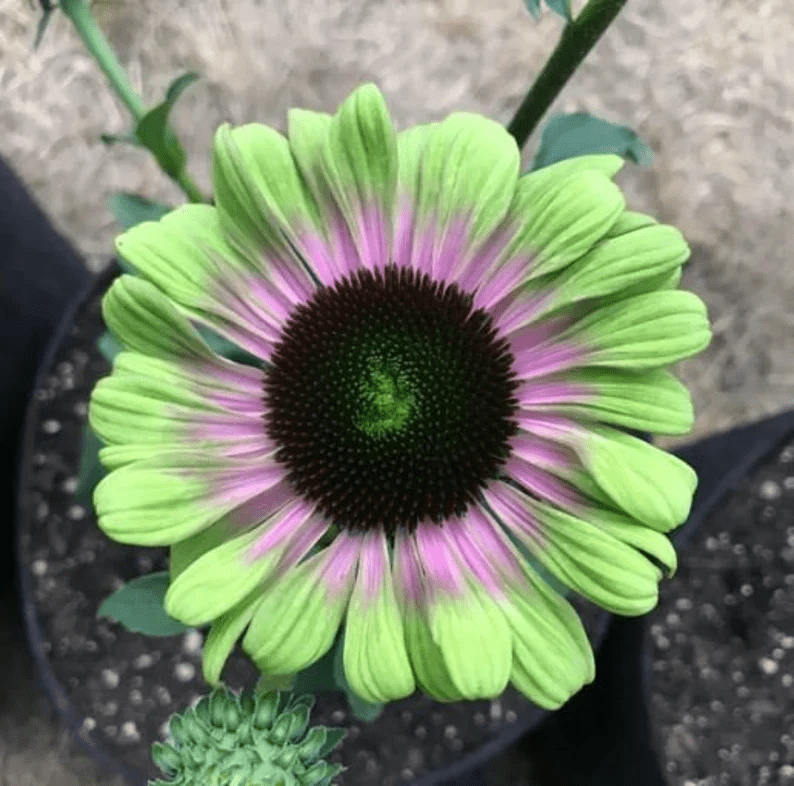 Introduction: In the realm of medicinal plants, Echinacea holds a prominent position for its powerful immune-boosting properties. Among the diverse range of Echinacea varieties, Green Twister stands out as a captivating twist on the classic. With its mesmerizing green and white striped petals, this unique cultivar of Echinacea purpurea has garnered attention from gardeners and herbal enthusiasts alike. In this essay, we will delve into the remarkable characteristics, cultivation techniques, and the enduring allure of Echinacea Green Twister as a standout medicinal plant.
Overview of Echinacea Green Twister: Echinacea, commonly known as coneflower, is a perennial herb native to North America. It belongs to the Asteraceae family, which includes daisies and sunflowers. Echinacea species have been used for centuries by Native American tribes for their medicinal properties, particularly in boosting the immune system and aiding in overall well-being. Echinacea Green Twister is a cultivar of Echinacea purpurea that displays stunning green and white striped petals, making it a visually captivating addition to any garden or herbaceous border.
Characteristics and Growth Habit: Echinacea Green Twister exhibits several unique characteristics that set it apart:
Petal Coloration: The most striking feature of Echinacea Green Twister is its distinctive green and white striped petals. The striped pattern creates a visually dynamic display, adding a touch of novelty and intrigue to the typical coneflower appearance.
Flower Shape: The flowers of Echinacea Green Twister maintain the classic coneflower shape. They consist of a prominent central cone surrounded by drooping petals, forming a stunning contrast against the striped backdrop.
Growth Habit: Echinacea Green Twister typically grows to a height of 24 to 36 inches (60 to 90 centimeters) and has an upright habit. It forms multiple branching stems, with each stem producing a single flower on top.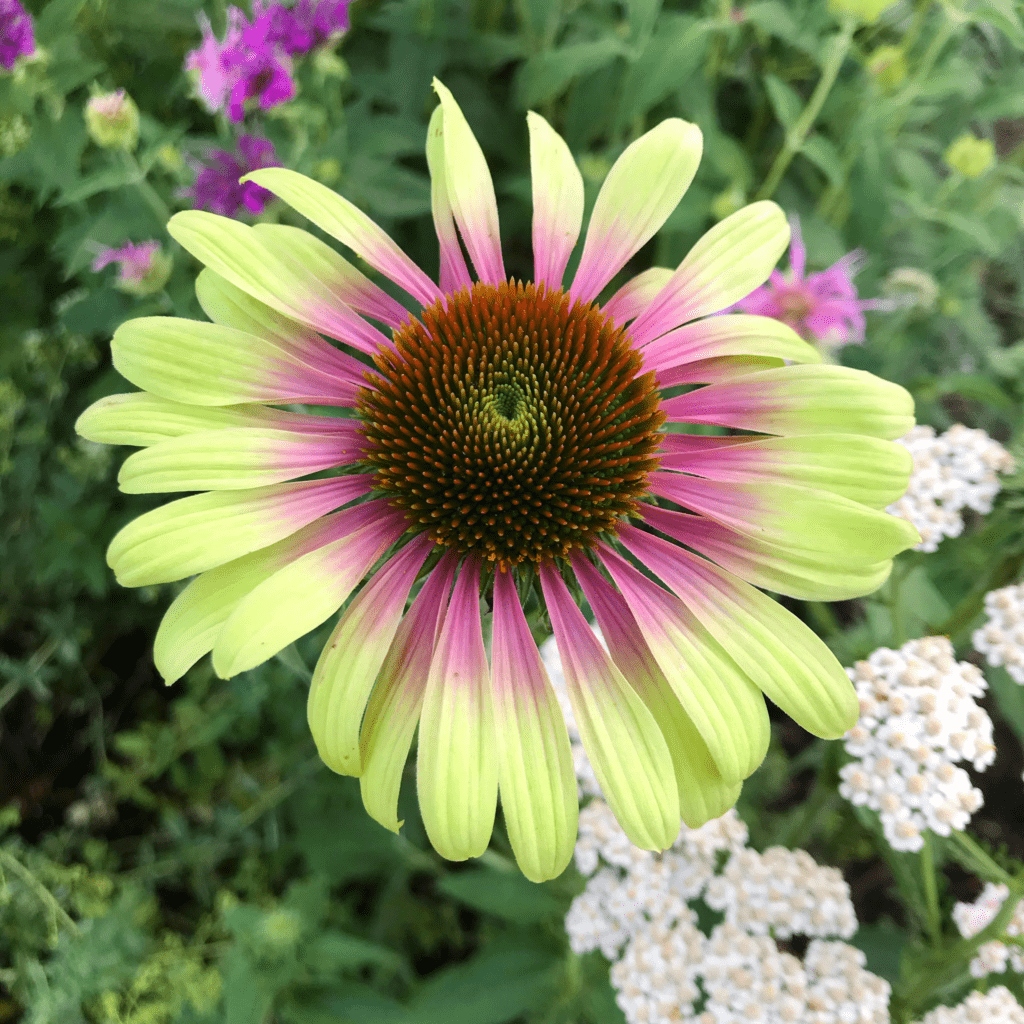 Cultivation and Care: To successfully cultivate Echinacea Green Twister, consider the following care guidelines:
Sunlight and Temperature: Echinacea Green Twister thrives in full sun, although it can tolerate partial shade. It prefers moderate temperatures, typically growing well in USDA hardiness zones 3 to 9.
Soil and Watering: Well-draining soil is crucial for the health of Echinacea Green Twister. It thrives in average to loamy soil with good moisture retention. Avoid waterlogged conditions, as excess moisture can lead to root rot. Water the plant regularly during dry spells, allowing the soil to dry out slightly between waterings.
Fertilization: Echinacea Green Twister generally does not require heavy fertilization. However, applying a balanced, slow-release fertilizer in early spring can help promote healthy growth and robust flowering. Follow the package instructions for proper application rates.
Pruning and Deadheading: Regular deadheading—removing spent flowers—encourages continuous blooming and prevents the plant from diverting energy into seed production. Pruning in early spring, before new growth emerges, helps maintain a compact and tidy appearance.
Propagation: Echinacea Green Twister can be propagated through seeds or division. Sow seeds indoors in early spring or directly in the garden after the last frost date. Division can be done in early spring or early fall by separating the plant's clumps into smaller sections and replanting them.
Overwintering: Echinacea Green Twister is generally hardy and can withstand cold winters. However, mulching around the base of the plant with organic matter can provide additional protection during extreme winter conditions.
Benefits of Echinacea Green Twister: Beyond its captivating appearance, Echinacea Green Twister offers numerous benefits:
Medicinal Uses: Like other Echinacea species, Echinacea Green Twister is known for its medicinal properties. It is traditionally used to support the immune system, ease respiratory ailments, and promote overall wellness. However, it is essential to consult a healthcare professional or herbalist for proper guidance on medicinal usage.
Pollinator Attraction: Echinacea Green Twister, like other coneflower varieties, is highly attractive to bees, butterflies, and other pollinators. By planting it in the garden, you can contribute to pollinator conservation and promote a healthy ecosystem.
Garden Design: Echinacea Green Twister adds a unique twist to garden design, serving as a focal point or a standout element in borders, cottage gardens, or herbaceous landscapes. Its striking striped petals provide a visually captivating contrast against other flowering plants.
Low Maintenance: Echinacea Green Twister is relatively low maintenance, requiring minimal care once established. Its tolerance to drought and its ability to withstand various soil conditions make it a resilient and easy-to-grow addition to any garden.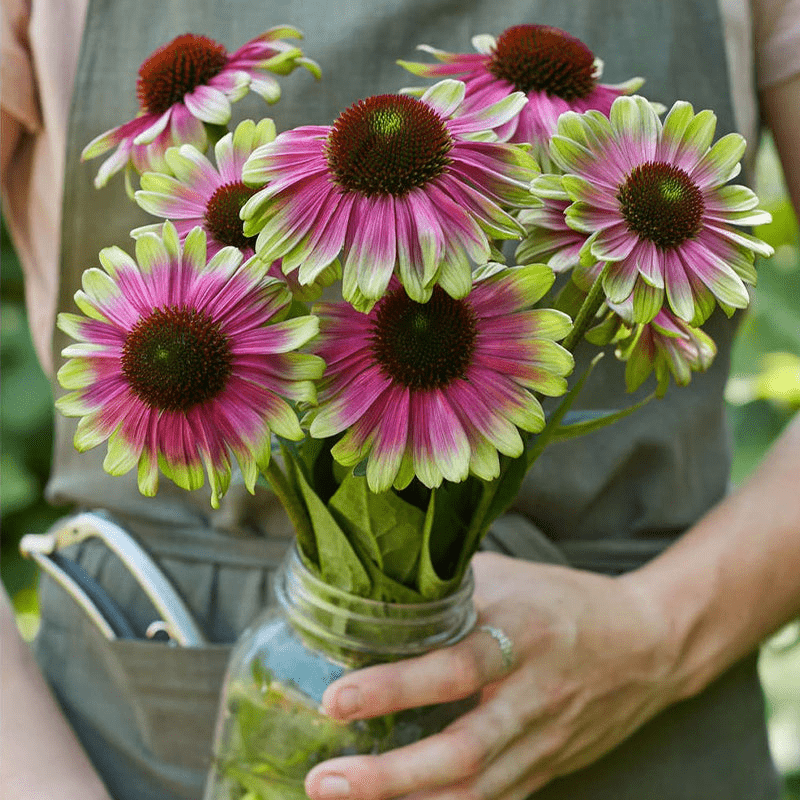 Conclusion: Echinacea Green Twister (Echinacea purpurea) introduces a captivating twist to the traditional coneflower, showcasing its mesmerizing green and white striped petals. With its unique appearance and rich medicinal history, it stands as a standout cultivar within the Echinacea family. By cultivating Echinacea Green Twister, you can enjoy not only its visual allure but also its potential health benefits. Embrace the enduring allure of this extraordinary plant and let