Here is the list of vegetables you can grow in January; onions, potatoes, beans, peas, spinach, carrots and beets.
Did you know at least nine different families of fruits and vegetables exist.
Each with potentially hundreds of different plant compounds that are beneficial to health.
Eat a variety of types and colors of vegetables in order to give your body the mix of nutrients it needs.
Let's look at what vegetables you can grow in January.
Growing Onions in January
You want to start bulbing Onions in January. Plant the base of the seedling 1″ – 1.1/2″ deep into prepared soil. Make sure the youngest leaf is not buried.
Onions should be spaced 4″ – 6″ apart for full sized bulbs. You can plant them as close as 2″ apart if every other one will be harvested as a spring onion, leaving the remainder to bulb fully.
If you've ever planted onions and wondered why you're bulbs were so tiny – not enough daylight is likely the main culprit. Make sure they are in full sun and get an area of 10 hours of sun per day.
Days to Maturity:75-110 days depending on variety, green onion tops can be harvested within 3 weeks
Where to Plant: Full sun is best in well drained, fertile soil
How to Plant Onions: With pointy tip up, place sets in soil and cover with 1″ (2.5 cm) of soil. Don't go too deep!
Companion Seeding: Seed onions next to cabbage, broccoli, kale, kohlrabi, brussel sprouts, tomatoes, celery, carrots, beets, peppers, spinach, parsnips, strawberries. I like planting onions next to my carrots with the hope that the onions keep carrot flies away – I've never had them, so I keep this partnership alive!
NON- Companions: Avoid planting onions next to beans, peas, sage and asparagus.
Growing Potatoes in January
Potatoes are an easy crop that can be grown all year round.
The first crop is planted in August or September for digging up in December, and the second in January to be ready for eating through winter.
The difficulty with potatoes is finding disease-free seed potatoes. These generally have to be ordered from seed producers.
Potatoes can grow in winter as long as they get enough light and are protected from freezes or hard frosts. This is where mulching comes in handy.
A good variety to plant in winter is the irish potato which is red in color.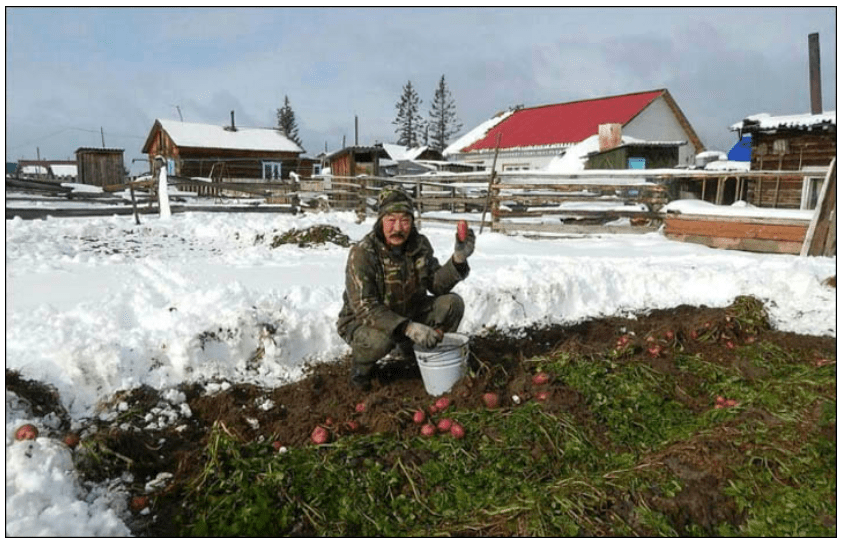 How do you Plant Potatoes in Winter?
The first thing that needs to be done is to root your potatoes. You can use organic potatoes that come from the produce section at your local grocery store. The potatoes sprouted under a grow light in a back bedroom without any fuss. Allow about two weeks for the sprouts to develop.
The ground will need to be at least 40 degrees Fahrenheit before the potatoes should be planted. Use a Compost thermometer to make sure Mother Earth is ready. January 18th everything was good to go.
Growing Fava Beans in January
Though they look like lima beans, broad beans or fava beans are less starchy and have a milder taste.
Fava beans are creamy, earthy, nutty and slightly sweet.
They are grown for their large, flat, edible seeds found inside the fruiting structures, or pods. There is a good deal of variety within the different types of fava beans, in both the size of their seeds and their color (e.g., white, beige, brown, purple, and black).
Fava beans need a sunny spot with well-draining soil. Make sure no nearby plants will create too much shade for them as they leaf out in the spring.
They are known to survive temperatures at 20F for short periods of time. Making this a vegetable you can grow in January.
Growing Peas in January
Three types of Peas, English, snap, and snow you can start to grow mid to late January.
January Peas are able to do just fine in temperatures as low as 28 degrees F. (-2 C.) If temperatures don't fall below this mark, peas and pea seedlings will be just fine.
Austrian Peas can endure periods of heavy frost.
Some gardeners prefer to grow edible pod peas. Like Austrian peas, they are easy to grow and they tolerate cold temperatures. Plus you have the advantage that they produce edible pods as well.
You can eat them as greens.
Growing Spinach in January
Spinach (seeds or transplants) can be grown all throughout January.
Spinach is an excellent choice for over winter production as it is extremely cold hardy. As the temperature decreases the plant increases the sugar content in its vasculature.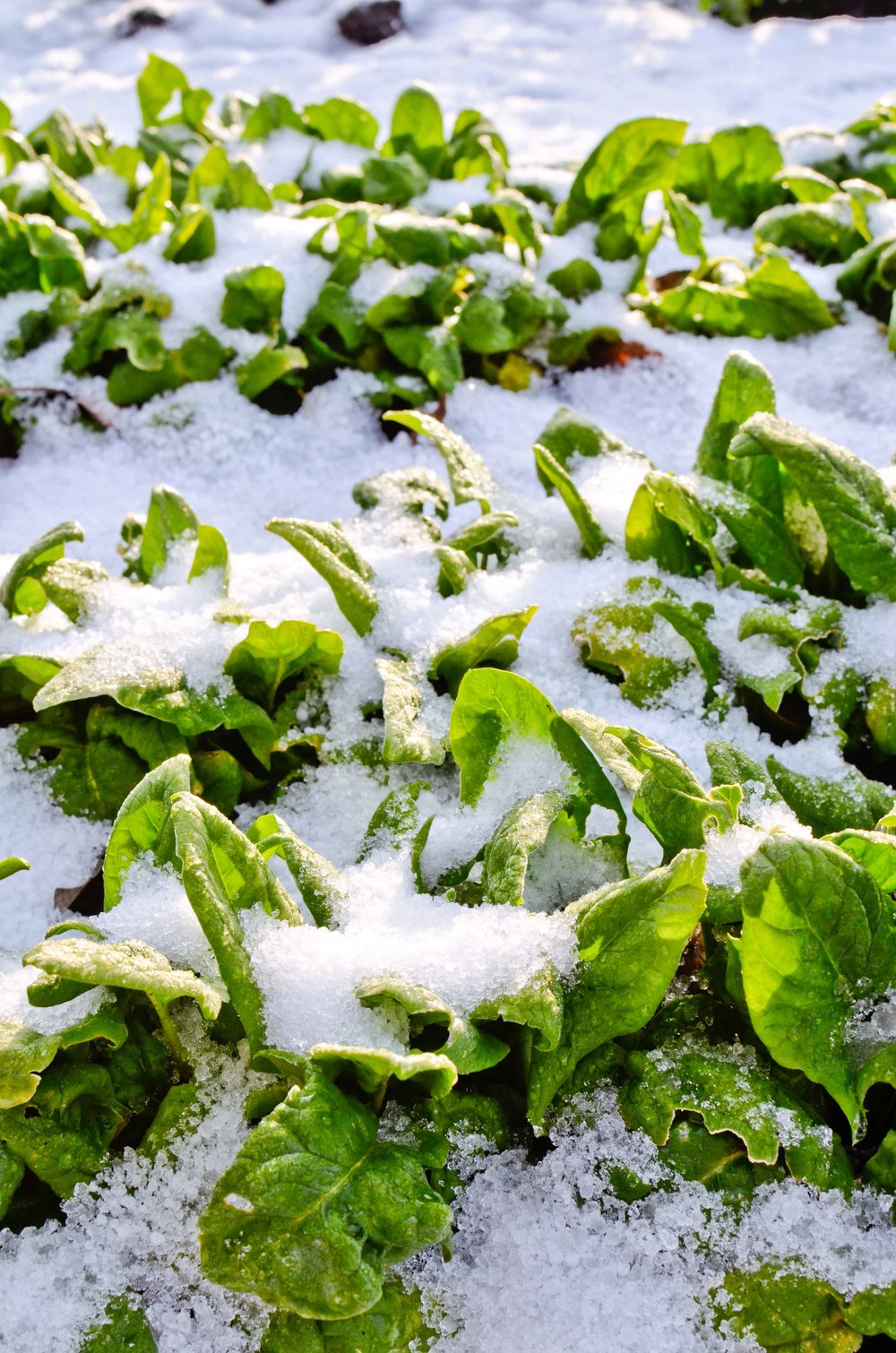 This essentially acts as an "anti-freeze" to protect the plant. Growth is greatly slowed by temperature and lack of sunlight.
Spinach seeds will germinate in low temperatures and the plants are very cold-resistant too.
Growing Carrots in January
Carrots are a popular vegetable you can grow in January.
Carrots are easy to grow year-round, but must have proper soil conditions to thrive.
Average soil temperature should be around 40 degrees to start your carrot seeds.
They like loose, sandy soil to allow plenty of room for root development.
Soil Preparation for Winter Carrots
If the soil outside if not frozen, or if you are growing in a greenhouse, covered raised beds, or planters, you can start carrots as early as January.
Carrots do not like to be transplanted, so they will need to be planted where you will harvest them, but they can do well in 12″ to 18″ depth containers.
For growing outdoors without shelter, we recommend waiting to plant until around 5 weeks before your expected last frost.
Growing Winter Beets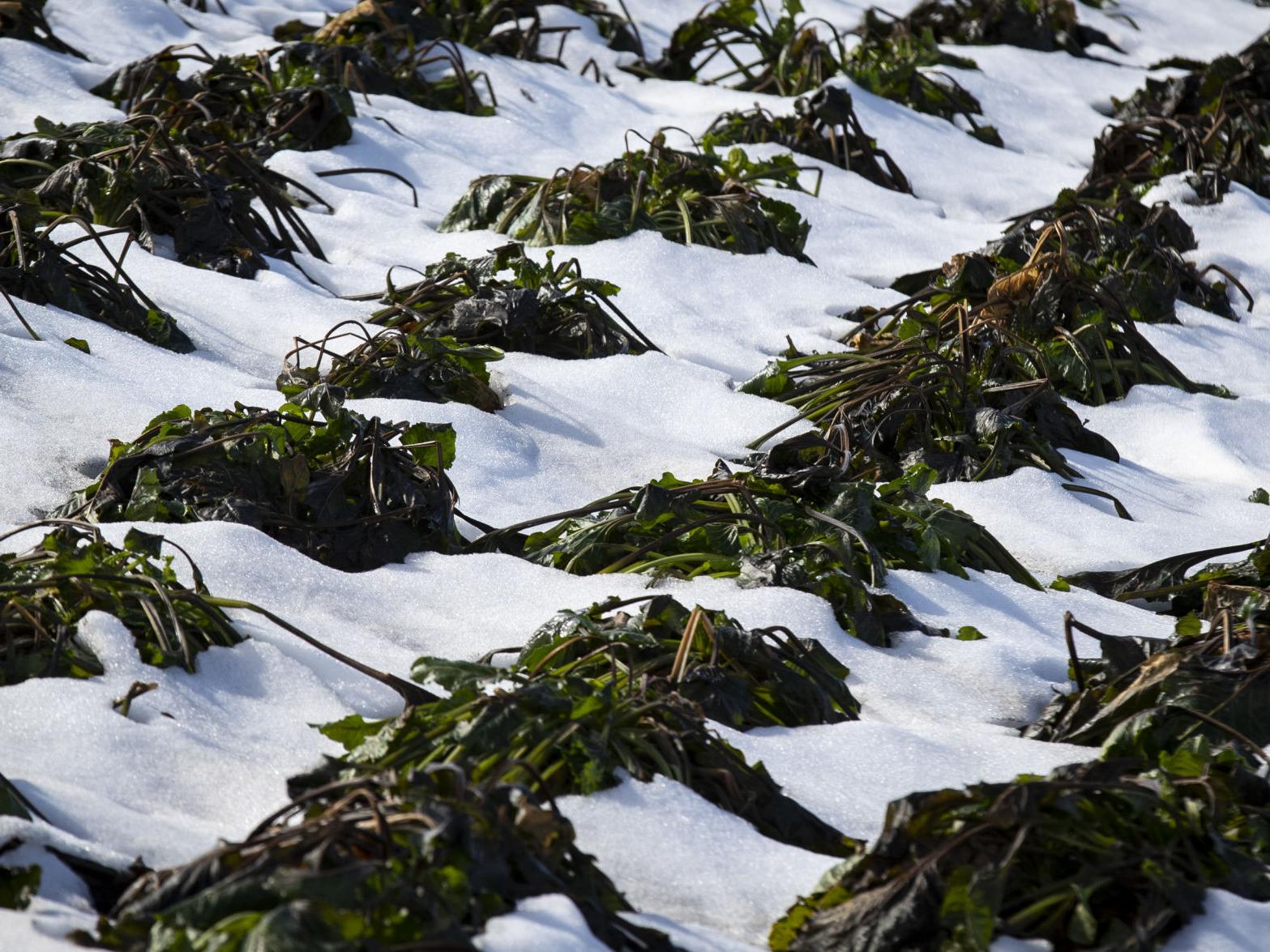 Beets are a vegetable that you can grow in January they also can withstand temperatures around 30 degrees F for sustained periods. If beets are left in the ground throughout the winter, they can start to produce seeds.
While beets are biennials, they're usually grown as annuals, with the roots harvested 60 to 80 days after planting, depending on the variety.
Can I leave beetroot in the ground over winter?
Sure can! Beetroot is a great option for both overwintering storage in the garden and overwintering young seedlings for early growth in the spring.
Either way, make sure to cover the beets with a heavy layer of mulch after the first frost to help protect them.