Pussy willow (Salix discolor) is the first flower to bloom every year.
Did you know that the pussy willow is the first flower to emerge in the Spring. Sometimes the willows emerge in January!
Pussy willow is a name given to many of the smaller species of the genus Salix (willows and sallows) when their furry catkins are young in early spring.
How to Care for Pussy Willows
Light
Pussy willows enjoy full sun and partial shade. In nature they are low growing foliage on the outer rim of the forest. So they can handle dappled light. You will find them near water and streams in the wild.
Water
These plants love moisture. They thrive along banks of streams in the wild and are useful for controlling soil erosion. You will need to ensure they have plenty of water and are not subjected to drought conditions.
In dense, water-retentive soil, about 1 inch of rain/irrigation per week is usually sufficient, but in porous soil, your pussy willow may require more frequent watering. The goal is to keep the soil constantly damp.
Soil
This plant likes loamy, moist, rich soil. It wants to be kept wet. It will tolerate poorly-drained soil, but performance is best if the soil is well-drained but kept constantly.
Temperature and Humidity
Pussy willows grow best in temperate conditions with cold winters, as is typical in the Northern U.S. and Canada (zones 4 and 5) They grow slower in warmer climates (zones 6 to 8). Pussy willows readily tolerate high humidity.
Fertilizer for Pussy Willows
Pussy willows can do well when fed with just compost or leaf mold.
You can fertilize them once in the fall with a balanced fertilizer after the plant is more than one year old. Use 1/2 pound of fertilizer for every 1/2 inch of base-trunk diameter, spread 18 inches beyond the drip line of the branches.
Preventing Disease and Rot
Don't let the fertilizer come into contact with the trunk of the plant.
Pruning Pussy Willows
The best time to prune is in late winter after the flowers have faded. Don't wait too long after flowering or you'll remove the shoots that will bear the next year's catkins.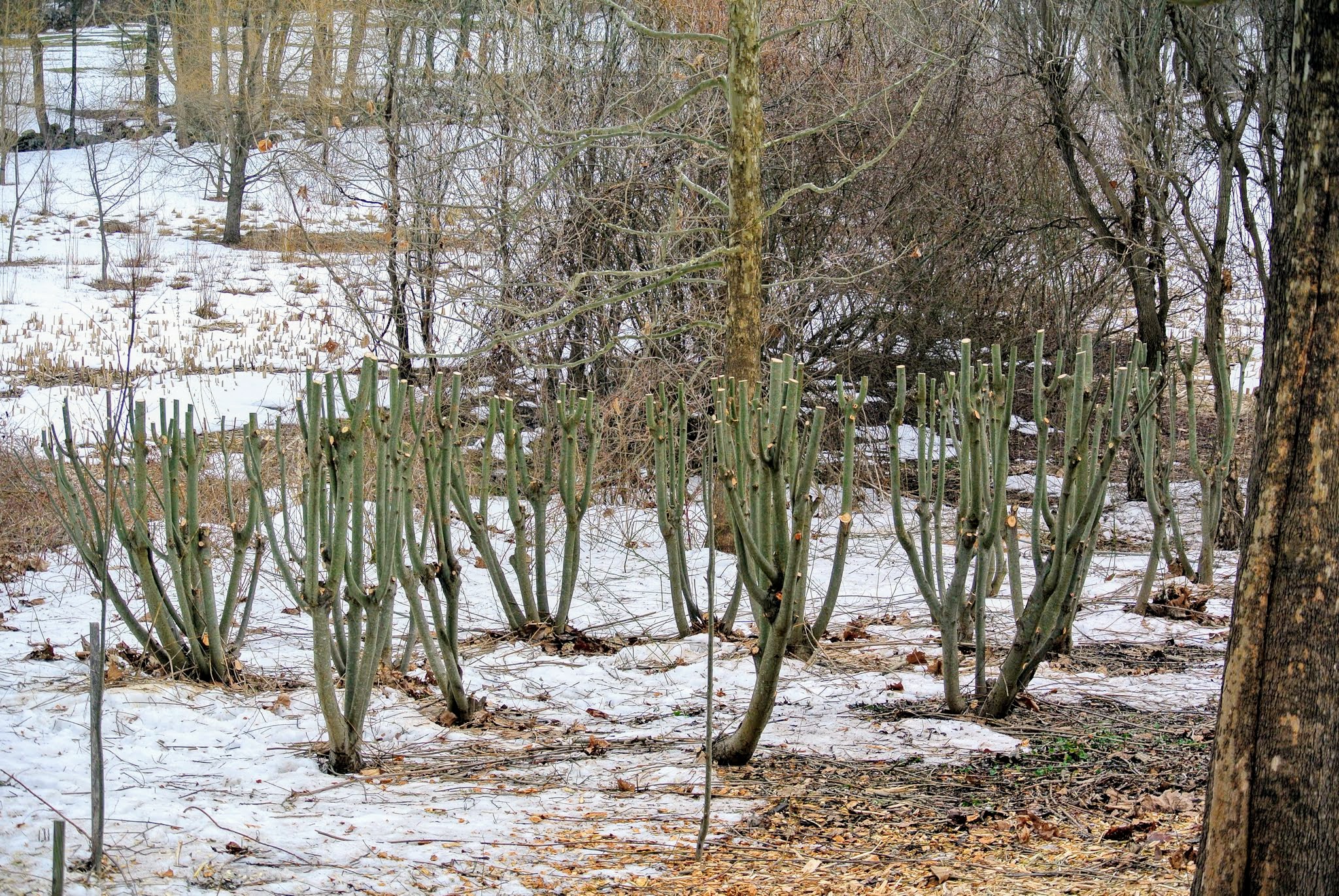 Unless your plant is unhealthy it should recover nicely after being pruned, with lots of new shoots coming up from the roots.
In late winter or early spring, harvest the tops of branches bearing catkins.
In the winter you want to remove any dead branches. Now cut one-third of the oldest branches back to the ground. The oldest branches are the gray-colored ones.
Pruning your pussy willows promotes new branches that have plenty of room to grow without touching each other and results in larger catkins.
The goal is to increase the size of the shrubs laterally while restricting their upward growth. Pruning also helps prevent disease, fungus, and insect problems.
A rounded shape is preferable for pussy willow shrubs. Should you decide that the plant has become too untidy and you'd like to start from scratch, this plant responds well to drastic pruning. 
For more bushy look you can prune it right down to the ground, and it will still come up again—with a more pleasing rounded shape.
Harvesting catkin branches for decorative use is usually done in late winter or early spring, but winter is an excellent time for major pruning, taking advantage of their dormancy.
Types of Pussy Willow by Color
Salix discolor 'caprea'
Salix caprea Pussy Willow 'Mt Asama' or Mt Aso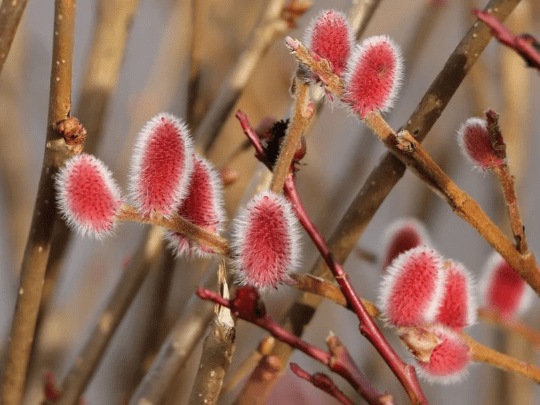 Mt. Asama Pink Flowering Willow. Introduced by a florist in Japan for its "pink-tinged pussy willow flower heads. Buds emerge in late winter to early spring with a two-toned, dark burgundy and silver, before aging to black-silver.
Named after the volcano Mt. Asama, it has larger catkins than the common pussy willow, Salix caprea."
Prune back after flowering in the spring to induce more and longer stems that will flower the following spring. Plant in full sun where it will make a multi-stemmed shrub 8-10 ft. high.
USDA Grow Zones 4-8
Black Cat Pussy Willow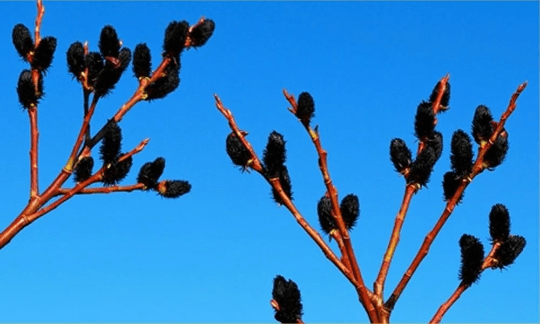 Black Cat Black flowering Pussy Willow.
Black Cat® Pussy Willow (Salix chaenomeloides) is a large, striking shrub that produces fuzzy catkins in early spring.
These catkins start out pink and silver and mature to a deep black. These provide great early spring interest while waiting for spring flowers to bloom.
This plant provides great cut flowers, or catkins. It also holds its color nicely when dried. It's easy to grow and works well as a screen or border.
It is native to Japan, Korea, and China, as opposed to Salix discolor, which is native to North America. This pussy willow is hardy in zones 4a-7b and has an upright growth habit.
Giant Gray Pussy Willows
Formerly known as Salix chaenomeloides, the giant pussy willow (Salix x 'Winter Glory') is very likely a natural hybrid of Salix gracilistyla and Salix caprea.
It has earned the moniker, "giant" because it produces some of the largest willow catkins: on mature stems the huge grey flowers commonly reach 2 to 3 inches long.
Highly ornamental and praised in the cut flower industry, the giant pussy willow also provide very attractive brown-red stems with incredible, large, bright red buds in the winter.
This willow is a must have to make the best winter arrangements and spring bouquets.
Where to Buy Ornamental Pussy WIllow Trees
Giant Pussy Willow (gray)
3 Main Species of Pussy Willow Salix discolor
Salix discolor is the North American native plant to which the name pussy willow is most often applied. However, several other Salix species also may carry same common name:
Salix caprea: This Eurasian pussy willow is also called goat willow.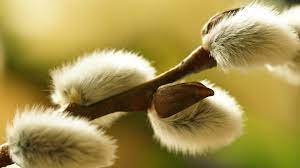 Salix caprea pendula: This is the weeping pussy willow that grows like a ground cover rather than an upright bush.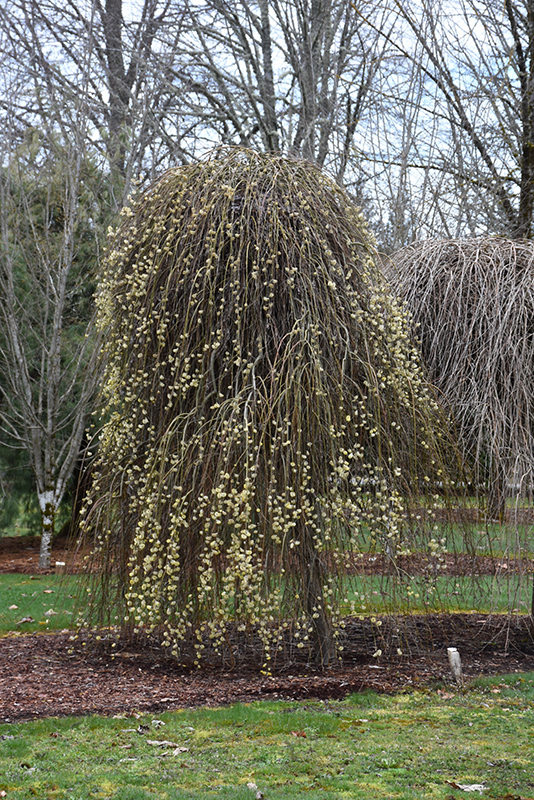 A unique weeping garden accent shrub, typically grafted onto a standard from where it weeps strongly downward, large fuzzy catkins are extremely showy in late winter; use only as a solitary in the garden to draw attention
Ornamental Features:
Only growing 6′ feet tall and 8′ feet wide.
Weeping Pussy Willow features delicate tan catkins along the branches from late winter to early spring before the leaves. The flowers are excellent for cutting. It has dark green foliage throughout the season. The pointy leaves turn yellow in fall. The fruit is not ornamentally significant.
Landscape Attributes
Weeping Pussy Willow is a multi-stemmed deciduous shrub with a rounded form and gracefully weeping branches. Its average texture blends into the landscape, but can be balanced by one or two finer or coarser trees or shrubs for an effective composition.
This shrub will require occasional maintenance and upkeep, and is best pruned in late winter once the threat of extreme cold has passed.
Salix cinerea: This Pussy Willow is native to Europe and western Asia, this plant has a reputation for invasiveness. It has naturalized in wetlands across the Eastern U.S. but should be avoided as a landscape plant.
Salix cinerea pussy willow is a sturdy shrub to small tree with a spherical crown, does not usually grow taller than about 5 m. The young twigs are grey-green with grey, felt-like hair in the first two years.
Older bark is grey-brown and smooth, developing shallow longitudinal grooves with age. The leaves are elliptical to reverse lanceolate. The upper side is matt green with very short hair.
The underside has dense grey felt-like hair. The half heart-shaped stipules remain on the leaf base all season. The catkins ripen in April. Male catkins are approx. 5 cm long and greenish-yellow. Female catkins are light brown and approx. 8 cm long in the fruit stage.
This pussy willow grows on almost any soil, including very infertile. Cannot tolerate drought but can take wet to marshy soil. This makes the tree suitable for river banks.