How to grow strawberries from seed.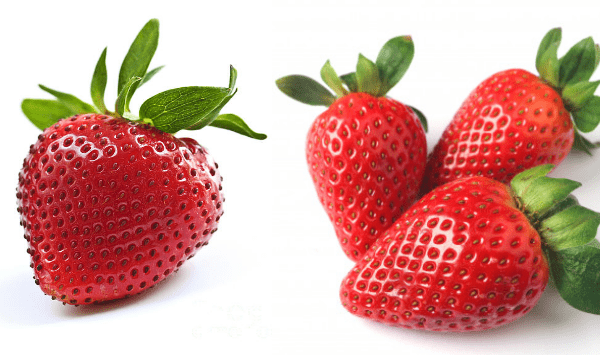 Do you enjoy Strawberries?! Great! We thought you would say yes and according to the USDA, the average American consumes approximately 3.4 pounds of fresh strawberries per year. Now imagine how many strawberries are consumed worldwide!
How to grow strawberries – Step 1
Let us get started and look at an easy way to start growing strawberries at home. Growing Strawberries from seed is fast and easy using this method to grow strawberries from seeds.
Strawberries are the only fruit that has their seeds on the outside of the flesh. It's an interesting fact and we explain that further later in this article. We will use the fact the seeds are on the outside to help us grow the strawberries in record time!
Did you know there are many different varieties? Check out your growing zone and make sure to choose the right variety for you.
*Pro Tip – Having stored your strawberries inside a cold climate continuously for about a week will help the seeds germinate even faster. This is called "Cold-Stratification" Your refrigerator is an ideal place to let this happen. Normally, that is where you will store your strawberries anyways but if you don't give this a try. Especially if you have difficulty with growing strawberries from seed with this method. It can be critical for how to grow strawberries.
I like to plant them in cups so that the small seeds do not come out while watering them. Go ahead and start slicing the strawberry seeds from the fruit. Peel the outside flesh of the strawberry keeping the seeds in tact. Make as many slices as you will have room to plant.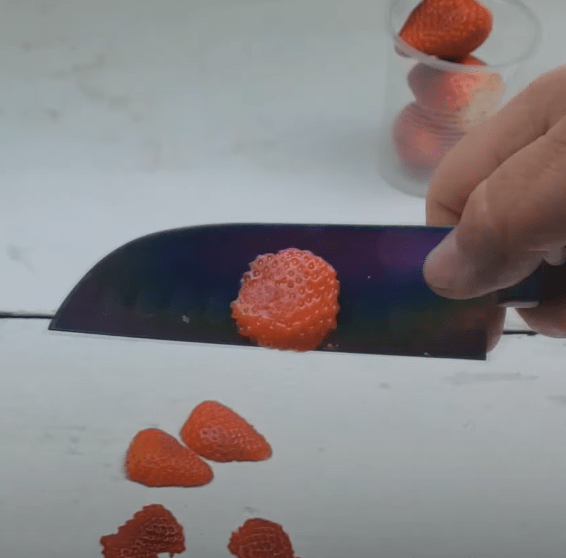 Growing Strawberries from Seeds (Prep) – Step 2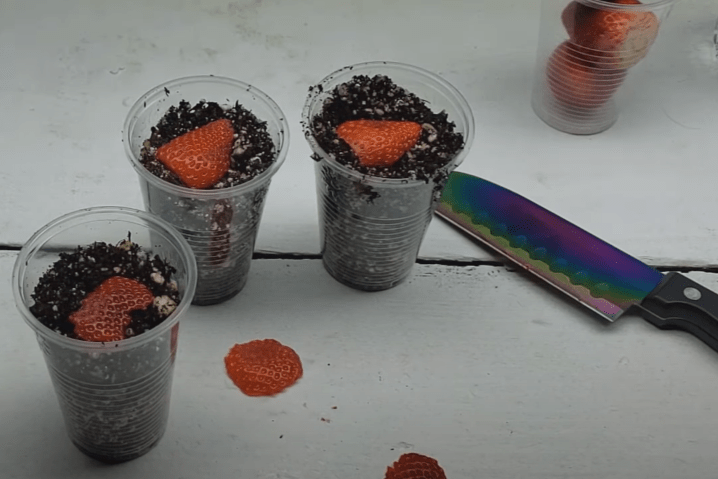 Fill a solo cup with potting mix and then start to place the the strawberry slices at the top of the cup. This is the fastest way that we found how to grow strawberries. When placing the small cuttings of strawberries make sure to cover the strawberries with a layer of soil about half inch to an inch. That will be your planting depth for this experiment.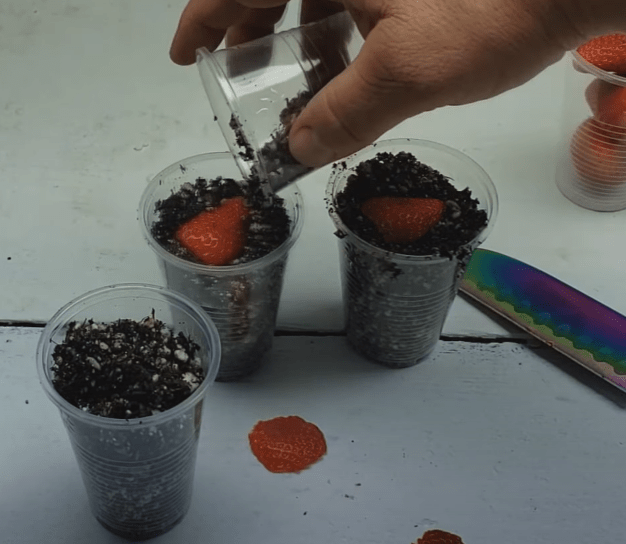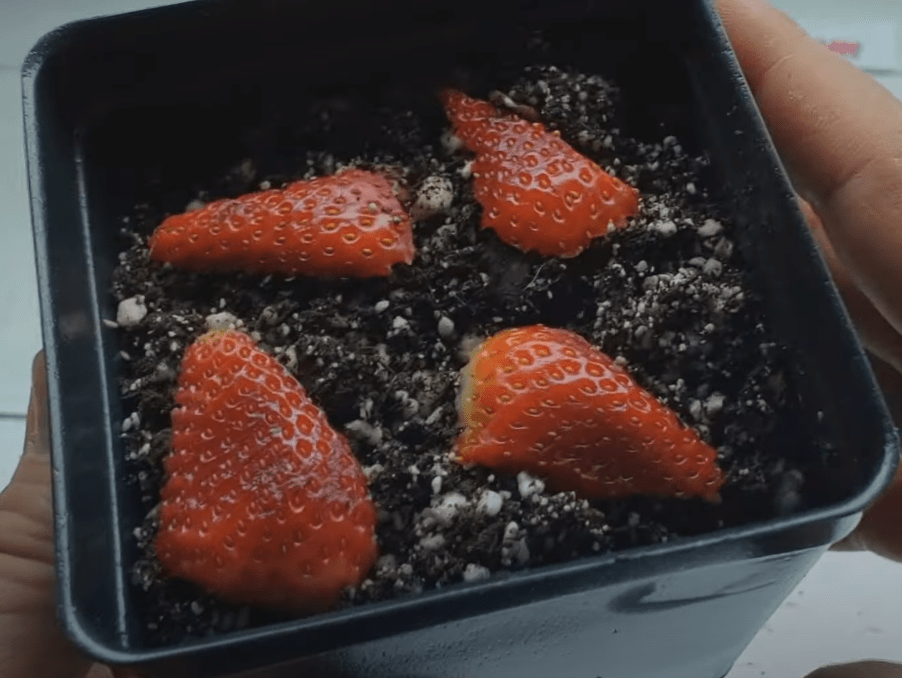 Caring for the Strawberries Prior to Germination – Step 3
When learning how to grow strawberries from seeds with this method you will want to pack the soil on top of the strawberry seeds. Make sure to water, then place the container in a warm sunny spot to grow! Germination of Strawberry seedlings will start to grow in about 2 weeks.
Watch The Video (how to grow strawberries)
In this short video I will show you how to accomplish germinating strawberry seedlings for growing at home! You can see how small and tiny strawberry seeds are.
Strawberry is the Only Fruit with Seeds on the Outside!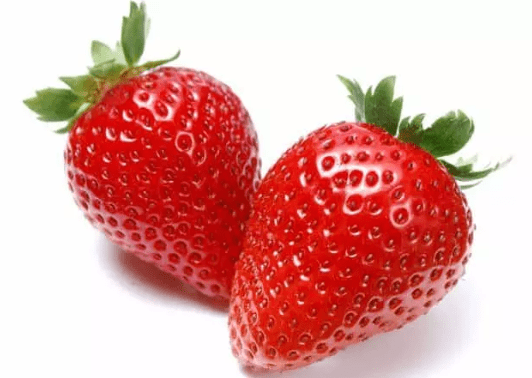 Did you know that? Strawberries aren't true berries, like blueberries or other berries. Technically, a berry has its seeds on the inside. And, to get nerdy technical, each seed on a strawberry is considered by botanists to be its own separate fruit. Whoa!? What?
The very fact that the strawberry was created this way allows for us to grow new fruit from slices. Hence, the title, how to grow strawberries from strawberries (slices) We find it really cool to be able to share this with our readers.
5 More Fun Facts About Strawberries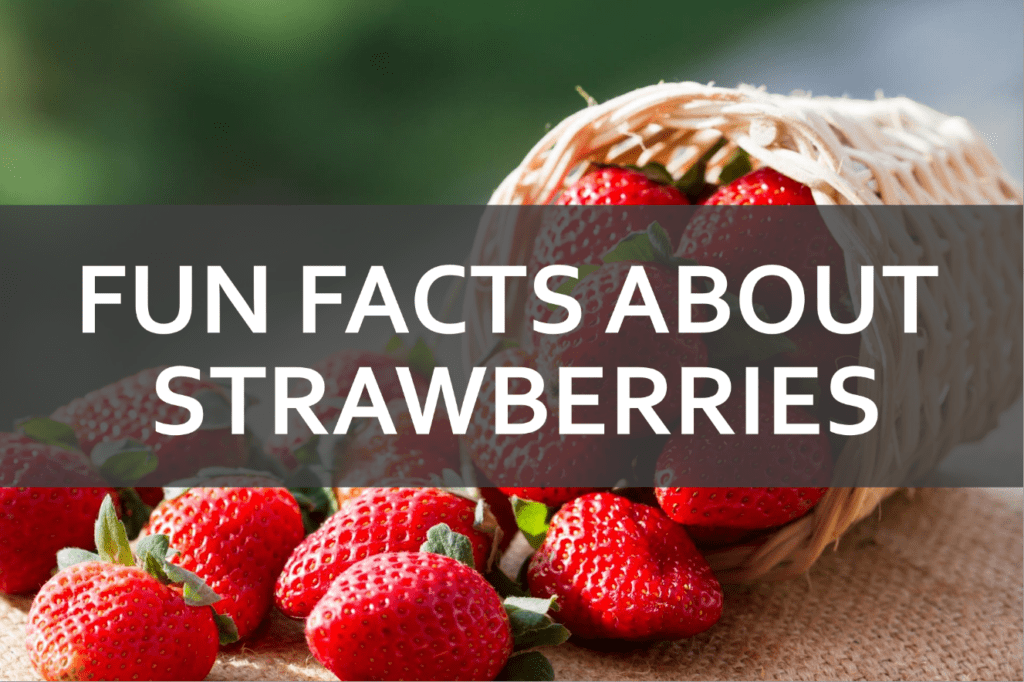 California produces 80% of the strawberries in the U.S. They grow about 2 billion pounds of the heart-shaped strawberry fruits per year. Every state in the U.S. and every province in Canada grows their own too.
2. Giant strawberries can be as large as apples. Whoa!
3. Strawberries have a higher antioxidant value than carrots, helping prevent cataracts and other degenerative eye problems!
4. 94% of households in the US consume strawberries.
5. If all the strawberries produced in California in one year were laid berry to berry, they would go around the world 15 times.
Thank you for reading our blog on how to grow strawberries. We hope you learned something new.
Conclusion
Did you learn an easy way to grow your strawberry plants from seed?